We got these two CD's at roughly the same time in the magical Beercan PO Box (Box 457, LaGrange, IL 60525-0457) and they're kind of similar yet they come from opposite sides of the Atlantic. You shouldn't judge a book by it's cover, but the covers of these 2 CD's are similar and the artwork of the latter is a little cooler than the former and the tunes therein are correspondingly cooler in the latter. Coincidence? Maybe. Is the Beercan staff making any sense? Probably not.
Read on...

Portugal - 4 song EP
- Four dudes from Italy form a band and call themselves
Portugal.
Perhaps some European humor I don't get or perhaps they just dig Portugal and find it cooler than Spain? Who can say, really? Anyway, outside of the first song, this is some solid, precise yammering. In general, the guitar tone is a little too clean for my tastes, but these Italian Portugesians are doing some cool stuff. "The End Is Turning" grabs the ear with some off-kilter, off-beat back-up shouts that compliment the lead singing Italiagesian very nicely. The song then tumbles into a bass breakdown that is accompanied by the drums to a nice effect. However, this nice effect goes on a little to long. In particular, the singer yelps "I try to, try to, the end is turning" for a total of 28 times. Yes, we counted.
Now look, if I tried to write lyrics in Italian, I wouldn't be able to pull it off. Hell, outside of English, I can barely speak Spanish, so kudos to
Portugal
for stretching their linguistic boundaries. But still, that repetetetetative part kind of drags down an otherwise good tune.
The last 2 tunes ("Don't Look Back" and "Frenetic World") are respectable, catchy tunes, but overall, this 4-song EP left us a little flat. These
Portugal
cats are on to something, but in our humble opinion, they should tinker with the guitar tones, keep the cool vocals stylings, but sing those cool stylings in Italian. Or Portugese. Or Brazilian. Shit, now I'm confused. Just don't sing them in English.
(
www.myspace.com/weareportugal
)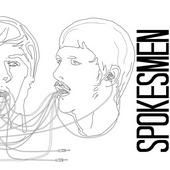 Spokesmen - Spokesmen
- So kind of like the afore-reviewed Portugal EP, this is precision, well-crafted songwriting, but there are a bunch of things that bump this 8-song album up above and beyond the masses. First off, it was sent to the magical PO Box by the good people at Let's Pretend Records (
www.myspace.com/letspretendrecs
). And no, we do not believe that the label makes the band, but still, Sweet Pete has a grand ear for the punkish, weird and distorted.
Secondly, these here Spokesmen seem like they know how they wanted this album to sound. In particular, some deeeep bass and drums all guttural and depthy-sounding.
OK, we're ditching the numerical bullet point format of this review right...now. We were going to make a Hot Snakes comparison and that is certainly apt, but a.) we read something similar somewhere else while writing this review and b.) it's starting to shape up that something like 50% of our reviews make a John Reis-project reference which both dates the Beercan staff and reveals our limited writing abilities. So, outside of that comparison, "Clear Your Head" starts with a madman-drumming lead-in that's mixed differently than the rest of the tracks, but then dives headlong into the business at hand with the end product sounding like a modernized and less-stylistically confined Reverend Horton Heat scorcher (how's that for a dated reference?). "Chernobyl" manages to jump back and forth betwixt white-hot intensity and rulin' melodicism. In short, 7 of the 8 tracks are winner-winners, fully deserving of chicken dinners.
The only mis-step here is the gag track, "Palm to the Forehead", where the Spokesmen boys presumably are trying to make their landlord sound like an asshole for leaving a preachy voicemail about standard furnace maintenance. Spokesmen, take it from a guy who once called a furnace-repairman for the exact same problem described in "Palm to the Forehead"...you pretty much deserve to be made fun of a little bit for not changing the filter. It's HVAC 101 really.
That's a very minor complaint though and if you dig your music, you should really track this CD down and buy it. (
www.myspace.com/oohbarracudasucks
)