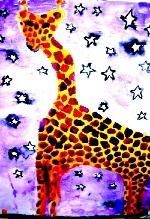 The Have Mercy's - Great!
- More great stuff from the Have Mercys this time in the form of a 4 song, green plastic cassette. A cassette...fucking beautiful. A couple of rockers and a couple of slower dirgy tunes and...and...oh shit, I am just far too distracted by the beauty of the packaging of this EP to even talk about the music. I mean, it's a cassette and it's green and, and, and the artwork is a drawing of a giraffe and sketches of the band members. And then the artwork has been xeroxed and presumably put into all the other tapes that they made.
Don't get me wrong, I very much dig the tunes. Go ahead and scroll down to a post from March about the Have Mercys. The opinions stated there pretty much apply to this release.
I guess the only complaint at this point would be to urge these cats to go ahead and put out a full-length. Preferably on a cassette. Fuckin' A! (
www.myspace.com/havemercys
)